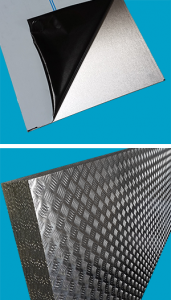 Here at 1st Choice Metals, we're the first place to go to when buying quality metals. We are an independent stockholder and processor of aluminium sheeting and plates, supplying trade, industry & the general public – offering excellent despatch times at low prices.
Aluminium Sheet 1mm – 4mm Thick
We supply Aluminium Plain Sheet in grade 1050H14 from 1mm up to and including 4mm thick and these sheets are supplied with an easily removable protective PVC coating on one side to protect the face from scratching during the cutting process. 1mm – 4mm thick aluminium sheet is guillotined to size prior to despatch – don't forget to take advantage of our cutting service which will allow you to specify the exact dimensions you would like your sheet sheared to.
Benefits & attributes of grade 1050H14
Medium strength alloy
H14 temper – Half hard
Very good corrosion resistance
Good for anodising & powder coating
Good for bending & cold forming
Good for welding
Common uses for 1050H14 Sheet
Kit Cars
Racing Cars
Architectural cladding / flashings
Model making
General sheet metal work
Horse Boxes
Counters / work tops
Aluminium Sheet / Plate 5mm & 6mm Thick
Our 5mm & 6mm Aluminium Sheet is supplied in grade 6082T6 – these thicknesses are supplied with a protective PVC coating on one side of the plate.  These are guillotined to size to order, so simply select the nearest size from the drop down menu (i.e 500mm x 500mm) and then use the cutting facility to ask us to cut it to your exact required size prior to despatch.
Aluminium Plate 8mm – 65mm Thick
Our 8mm – 65mm thick aluminium plates are also supplied in grade 6082T6. We offer these thicker plates in standard widths of 7", 8", 10" & 12". You can then select your desired length from the dropdown menu. These plates are sawn to width & length and are not supplied with any protective PVC coatings.
Benefits & attributes of grade 6082T6

Good general engineering grade of aluminium
Good for machining
Medium strength alloy
Very good corrosion resistance
Good for welding
Good for machining
Good for drilling, turning, milling, tapping
Common uses for grade 6082T6 plate
Bridges
Cranes
Machined parts
Base plates
Dies
Frames
Motorcycle & car parts
Aluminium 5 Bar Treadplate / Chequer Plate

We stock a large range of Aluminium 5 bar Treadplate – commonly known as Chequer Plate – in the following thicknesses; 1.5mm, 2mm, 3mm, 4.5mm & 6mm.
The quoted thickness refers to the base thickness of the plate – the 5 Bar pattern sits on top of this. The pattern is usually approx 1mm-2mm in height, dependant on the base thickness of the plate.
All of our Aluminium chequer plate is supplied in grade 5754 and is guillotined in house prior to despatch.
Benefits & Attributes of grade 5754 chequer plate

Very good corrosion resistance – especially to sea water
Good for cold forming
Good for welding
Good Anti-slip properties
Common uses for grade 5754 chequer plate

Walk ways
Boat Building
4 x 4 vehicle modifications
Trailers
Flooring