Welcome to your page – a chance to showcase exactly what you have created using items purchased from this website. It could be anything from a minor modification to an engine for which you used a small piece of stainless, through to an item that you have designed & fabricated from scratch out of aluminium. All we ask is that one of our products was used somewhere in the project.
If you would like your project to be featured, simply email sales@1stchoicemetals.co.uk with some photos and the description or story behind your project, and we will happily upload it to this page and also to our FACEBOOK page.
---
Project Name:  Digital Advertising Panel Frames
Location:  Nationwide
We contacted 1st Choice Metals as we needed a solution to edge & frame a new range of roadside digital advertising panels that we will be supplying and installing at locations throughout the UK. The advice and help that we received from the guys was excellent, they were happy to discuss and quote for various options until we were certain that we had the right sized aluminium angle and the best, most suitable finish for the job. They delivered the angles cut to size and powder coated as specified well with in the relatively short deadline that we gave them. The first of these new panels complete with its aluminium housing was installed in Bradford last week – we think it looks great!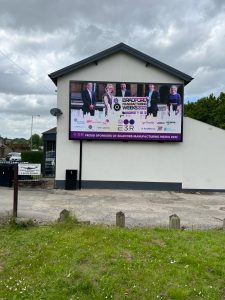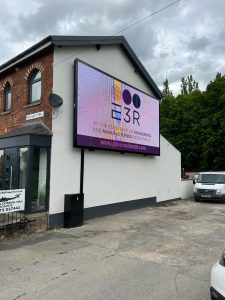 ******************************************************************************************************************
Project Name: Fishing / Game Priests
Name: Kevin Malin
Location: Warwickshire
Here are some photos of the fishing / game priests that I have been making, using some of the stainless steel that I purchased from your website. The priests are manufactured from grade 303 stainless steel, which 1st Choice Metals supplied cut to length on a next day service. I use grade 303 stainless steel, as not only is it corrosion resistant but it is also the free machining grade of stainless steel, which allows me to quickly and easily turn them down to the correct size. The bars are then drilled, tapped and polished up to a bright finish. An antler handle with buffalo horn end cap is attached using galvanised threaded rod. Finally a paracord lanyard is added as a safety feature.
You can see more of Kevin's work by visiting his Bespoke Priests Facebook page.
********************************************************************************************************************
Project Name: Land Rover Tonneau
Name: P Knechtel
Location: Southampton
Hi,
I thought there might be some interest in a recent project for my Landrover Defender 110 that I completed using materials from 1st Choice Metals. I bought the Defender last year with a canvas rear cover and although it looked very smart it was not the look that I wanted. I searched on-line but could only find one company that make an aluminium tonneau but this comes in at around £800 and for that price they don't guarantee that it will be water-tight. S
So I decided to make my own and try and improve on the professionally made one using a combination of various aluminium sections from 1st Choice Metals and components from other suppliers that I found by searching on-line.
The results can be seen in the attached photos and So far I am very happy with the result. The deck is locked down using a chrome recessed 't' handle and lifted to the Vertical with twin gas filled struts. All aluminium components are joined using either pop rivets or, where the heads are visible, stainless steel torx screws into captive rivnuts. All sections are separated by 0.5 mm thick rubber strips to prevent 'rattle' and aid water tightness.
The materials that were used from 1st Choice Metals are as follows:
Main deck – 3mm chequerplate.
Perimeter box section – 38.1mm x 19.05mm
Piston channel/ stiffeners – 31.75 x 31.75 x 3.18 mm
Lock channel/ rear stiffener – 63.5 x38.1 x 4.76 mm
If anyone is interested in the other components I would be delighted to provide source and price information. I made the whole thing for about half the cost of the professional item……..and mine is watertight!
I would like to thank 1st Choice Metals for providing good value materials with rapid delivery and I will be sure to re-visit them for my next project! (Which happens to be a built-in tool/equipment locker for inside the back of the Landrover.
Regards Phillip Knechtel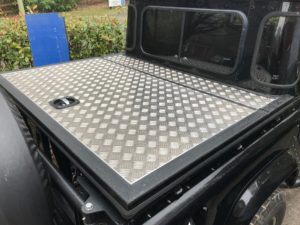 *******************************************************************************************************************
Project Name:       Aluminium Potting Bench
Creator:                 S. Gurney
Location:              Northamptonshire
Here are some photos of the potting bench that I made from the aluminium I bought from your website.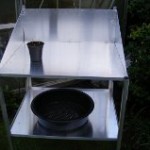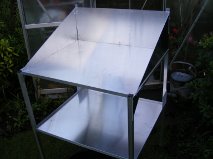 I couldn't find the right sized potting bench anywhere in the shops or online, so I decided to make my own.
It is 600mm wide x 530mm deep, 760mm high at the front and 1000mm at the back.
It is constructed from 1.5mm Aluminium Sheet, 3/4″ x 3/4″ Aluminium Angle and 1″ x 1″ x 16swg Aluminium Box Section, all of which 1st Choice Metals cut down to size for me with good accuracy.
I then finished the legs off with a couple of plastic end caps.
I am by no means an engineer but managed to put this together quickly and easily from the items ordered from 1st Choice Metals, and have ended up with a made to measure potting bench that has probably actually cost me less than if I had found one in a shop or garden centre!