Your Aluminium, Brass, Plastic & Stainless Steal Projects
Welcome to your page – a chance to showcase exactly what you have created using items purchased from this website. It could be anything from a minor modification to an engine for which you used a small piece of stainless, through to an item that you have designed & fabricated from scratch out of aluminium. All we ask is that one of our products was used somewhere in the project.
If you would like your project to be featured, simply email sales@1stchoicemetals.co.uk with some photos and the description or story behind your project, and we will happily upload it to this page and also to our FACEBOOK page.
---
Project Name:       Aluminium Potting Bench
Creator:                 S. Gurney
Location:              Northamptonshire
Here are some photos of the potting bench that I made from the aluminium I bought from your website.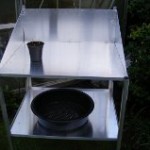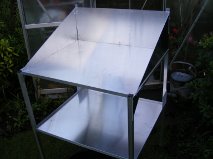 I couldn't find the right sized potting bench anywhere in the shops or online, so I decided to make my own.
It is 600mm wide x 530mm deep, 760mm high at the front and 1000mm at the back.
It is constructed from 1.5mm Aluminium Sheet, 3/4″ x 3/4″ Aluminium Angle and 1″ x 1″ x 16swg Aluminium Box Section, all of which 1st Choice Metals cut down to size for me with good accuracy.
I then finished the legs off with a couple of plastic end caps.
I am by no means an engineer but managed to put this together quickly and easily from the items ordered from 1st Choice Metals, and have ended up with a made to measure potting bench that has probably actually cost me less than if I had found one in a shop or garden centre!