Black Gloss Chequer Plate
Chequer Plate / 5 Bar Treadplate
Black Aluminium Chequer Plate
Width & Length
200mm x 200mm
300mm x 200mm
300mm x 300mm
400mm x 200mm
400mm x 300mm
400mm x 400mm
500mm x 200mm
500mm x 300mm
500mm x 400mm
500mm x 500mm
600mm x 200mm
600mm x 300mm
600mm x 400mm
600mm x 500mm
600mm x 600mm
700mm x 200mm
700mm x 300mm
700mm x 400mm
700mm x 500mm
700mm x 600mm
700mm x 700mm
800mm x 200mm
800mm x 300mm
800mm x 400mm
800mm x 500mm
800mm x 600mm
800mm x 700mm
800mm x 800mm
900mm x 700mm
900mm x 800mm
1000mm x 200mm
1000mm x 300mm
1000mm x 400mm
1000mm x 500mm
1000mm x 600mm
1000mm x 700mm
1000mm x 800mm
1000mm x 900mm
1000mm x 1000mm
1200mm x 200mm
1200mm x 300mm
1200mm x 400mm
1200mm x 500mm
1200mm x 600mm
1200mm x 700mm
1200mm x 800mm
1200mm x 900mm
1200mm x 1000mm
1200mm x 1200mm
Clear selection
Product Description
Need black Aluminium Chequer Plate folded? Contact us for a quote!
Black painted Aluminium Chequer Plate
1.5mm thick Aluminium 5 Bar Treadplate with a gloss black powder coated finish on the patterned face only.
1.5mm thickness is the base plate thickness – the chequered pattern sits on top of this
Supplied in Grade 5754
Excellent corrosion resistance and is suitable for marine applications
High strength
Good for bending / folding / cold forming
Click here for more information on grade 5754 aluminium
Please note that the guillotined edges will be mill finish / silver – please seen image below.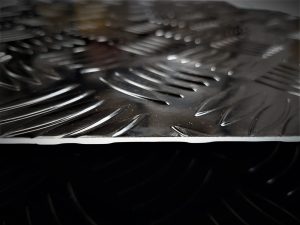 This 1.5mm Aluminium Chequer Plate is supplied with a gloss black finish.  Not only is it a hard wearing and durable coating, but it also looks fantastic. Our gloss black painted Aluminium Chequer plates look great in both indoor & outdoor environments. Some of the most common uses for our black aluminium chequer plating sheets are: Protective / decorative wall claddings in shops, supermarkets & gyms. Step treads & kick plates for stairs & doors. Decorative modifications to Land Rovers and other 4×4 off road vehicles. Flooring, trade counters and work tops. Shop fittings, boats and other decorative panels.